Taylor Alexander
Youth & Workshops
Taylor grew up in Wichita and received her BFA from University of Kansas and her master's degree in clinical counseling and art therapy counseling from Emporia State University. She loves acrylic paints, watercolors, weaving, textiles, and sculpting with clay, wood, and metals. She enjoys working with young artists and loves seeing their creativity come to life through colors, shapes, and patterns. Taylor's favorite artist is Barbara Hepworth because of her organic, yet modern sculptures and her use of natural and industrial mediums.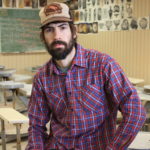 Troy Becker
Ceramics
Troy Becker is head of the ceramics department at Mark Arts. He received his BFA from Wichita State University in Studio Art with an emphasis in ceramics. His ceramic styles vary from artistic hand built forms to highly crafted thrown pottery. He has shown his work in numerous solo and group exhibitions in Wichita. Becker was also the 2009 – 2010 Artist in Residence at Mark Arts.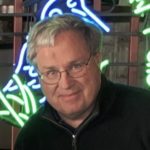 Doug Billings
Printmaking
Doug Billings received an MFA in Printmaking from Wichita State University. He established a new printmaking program at Mark Arts in 2002 and has been teaching printmaking classes since then. Billings founded and is the director of the Tallgrass Press Printmakers Association, established in 2013. He is also a member of the Boston Printmakers, the Society of American Graphic Artists, the American Color Print Society, the Philadelphia Print Club and the American Print Alliance. He has exhibited his work in Australia, Europe and across the United States. He is a member and former president Gallery XII in Wichita and a former president and board member of the Artist Guild of Wichita.
Mark Birchfield
Drawing & Oil Painting
Mark is a Kansas native that has classical training in drawing and oil painting. He is a commission portrait artist and creates representational portraits, figurative and still life drawings and oil paintings with a direct alla prima method and focus on chiaroscuro lighting.
Gayle Clayborn
Watercolor, Pastel, Adult & Youth Workshops
Gayle Clayborn is an energetic, passionate artist that teaches private and group lessons, and has been for over 12 years. A handful of her youth students have received national awards.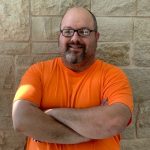 Nick Denny
Youth Instructor 
Nick Denny was born in Albequerque to Air Force parents his childhood living overseas. Exposure to many different countries and cultures fostered an appreciation for the arts. After moving back to the States in 1995, he attended Wayne Community College in 1996 where he was inspired by his first college level art instructor, brick sculptor Pat Turlington. Upon his father's retirement from the Air Force, the family relocated to Wichita and Nick enrolled at Wichita State University where he went on to earn a BFA in Fine Arts, Painting and Drawing in 2002.
Nick worked as a designer and fabricator of advertising and signage for 20+ years while also teaching at Paint the Towne starting in 2013. He continues to produce art and illustration work in his home studio while teaching part time.
Virgina Grass Simmons
Oil Painting
Virginia Grass Simmons has won multiple awards in teaching and oil painting. Virginia is a professional painter whose work is regularly in national and regional level painting shows. Once being named teacher of the year for Sedgwick County, she now puts all of her talents into oil painting. Virginia's painting "Flint Hills Glory" was the winner for the 2016 Symphony in the Flint Hills juried Prairie Art Exhibition. She received her master's degree in educational psychology from Wichita State University and is represented by Beauchamp Gallery and Southwind Gallery.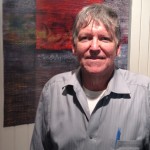 Jim Gross
Abstract Painting
Jim Gross earned his teaching degree at Friends University and his MFA degree from Wichita State University. He is a member of American Abstract Artists. His works are in the Guggenheim, the Metropolitan Museum of Art and the Nelson–Atkins Museum of Art. He received the Distinguished Alumnus Award in Fine Arts from Friends University and was named Artist of the Year by the Wichita Arts Council.  Gross has had three one-man shows in New York City.
Matthew Hilyard
Mixed Media & Abstract Painting
Matthew Hilyard, Born in Wichita, Ks maintains his home & studio in Andover Kansas. He is a curator, Studio Artist & Art instructor at Mark Arts here in Wichita, Ks. He was commissioned to paint a Keeper of the Plains Statue that can be viewed at the Urban Park in downtown Wichita, Ks. His work has been included in numerous Local, Regional, National & International juried competitions. His work has been included in New American Paintings.
Brian Hinkle
Oil Painting
Brian Hinkle earned his MFA in Painting at Wichita State. He has taught at Mark Arts since 1996 and previously served as curator and gallery director for 12 years. He also graduated Phi Beta Kappa from Grinnell College in 1986 with a bachelor's degree in mathematics. Brian is featured as one of 50 prominent local artists in the book Wichita Artists in their Studios. Brian won Best of Show in the 2016 Mark Arts National Oil Painting Exhibition and a purchase award at the 2018 Mark Arts Kansas Watercolor Society National Exhibition.  Brian's artwork is represented by Reuben Saunders Gallery in Wichita, Strecker Nelson West Gallery in Manhattan, and BrandonJacobs Gallery in Kansas City, Missouri.
Tracie Lyn Huskamp
Mixed Media & Watercolor
Tracie Lyn Huskamp received her BFA in graphic design with a minor in studio arts from Wichita State University. Her art has appeared on ABCNews.com in an AP Interview, on the cover of Somerset Studio Magazine and with the release of her book, Nature Inspired (Quarry 2009). She also has  licensed her artworks to manufacturers for retail products.
Bill C. Koch
Couples Dance
Bill Koch has been teaching dance styles, privately and in classes, since 1988. His instruction and experience range from country & western, to popular ballroom, Latin, tango and various swing styles. Bill has taught numerous classes at Mark Arts, the Derby Recreation Center, Bethel College's Fine Arts Academy (Newton), Amira Dance Productions, Newton High School, Wichita State University's Heskett Center, wedding choreographies, theme parties and private lessons. Bill has had multiple performances at River Fest, Autumn and Art, and was a recent dance competition judge.
Rachel Lewis
Youth & Workshops
Rachel was born and raised in Leavenworth and has degrees in graphic design, multimedia-video production, and art education. She loves working with illustration markers and watercolors because of the unique, almost magical result. She enjoys watching young artists work on big projects one step at a time until a masterpiece is the final result. Rachel's favorite artist is Camilla d'Errico because she has the craziest ideas and the coolest works she has ever seen.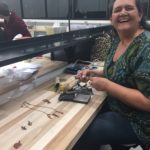 Lori Martin-Price
Jewelry & Metalsmithing
Lori Martin–Price earned her BA in metalsmithing from the University of Kansas. She is a professional artist who also teaches K – 12 art at Elyria Christian School and non-credit silversmithing at Hutchinson Community College. She is also a member of the Hutchinson Art Association with work in its gallery.
Roger Mathews
Jewelry
Roger Mathews first began teaching jewelry in the early 1970s at Mark Arts. His first class had only three students: Mary Robinson Koch, Olive Ann Beech and Mrs. Coleman. During the next 40 years, Mathews taught jewelry at a high school and then 35 years at Butler Community College. He also owns Mathews Gallery on Central and has exhibited in juried art shows across the nation. Mathews earned a master's degree from Wichita State University.
Babs Mellor
Sculpture
Babs Mellor is a professional sculptor. She has studied with many world prominent sculptors in the United States and Italy. Her sculptures can be seen at Century II, Newman University, Friends University and many more. Babs' works have also been featured in museums, art publications and have received many artistic awards. She has been teaching classes at Mark Arts since 1973.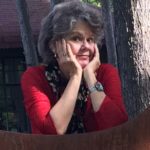 Mary Binford Miller
Oil & Acrylic Painting
Mary Binford Miller received her Bachelor of Fine Arts in painting and a Bachelor of Science in Art Education from Kansas State University. She worked as a fashion illustrator for The Oklahoma Publishing Company and The Wichita Eagle newspapers. Mary has studied with Everett Raymond Kinstler, official portrait painter of Gerald Ford and Ronald Reagan, and David Leffel, Daniel Gerhartz, Jeff Legg and Daniel Keys, all world-renowned classically trained painters. She is a multiple Addy Award winner in the graphic arts field. She has also won awards for her fine art paintings, the most recent being an Honorable Mention in the 2018 Mark Arts Oil Painting National Exhibition, juried by internationally known painter Daniel Keys. Mary is co-winner of the Koch Cultural Trust Enabling Grant for 2018. She is represented by SouthWind Gallery in Topeka and Reuben Saunders Gallery in Wichita.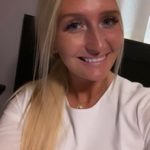 Adyson Mikesell
STEAM Instructor 
Adyson was born and raised in Wichita. She is on track to graduate with a BFA in Graphic Design in Spring 2022, from Wichita State University. Her favorite mediums include paint, oil pastels, and colored pencil. She enjoys calligraphy and would love to sell her own greeting cards someday. Her favorite artist is Jessica Hische because she shows typography is more than just words on a canvas. Adyson loves working with children and watching their imagination come alive on paper.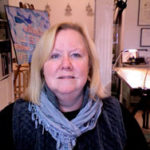 Caryl Morgan
Watercolor
Caryl Morgan is an internationally recognized contemporary realist watercolorist whose primary interest is in vivid, highly saturated watercolor. She taught high school and adjunct college classes for 34 years and is a signature member of the Watercolor USA Honor Society, Kansas Watercolor Society and Oklahoma Watercolor Society, as well as many other state and local associations. Her work is represented in private, corporate and permanent museum collections across the United States.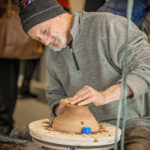 Jack Norris
Ceramics
Jack Norris has a master's degree in microbiology from Wichita State University and worked for many years in engineering at Boeing. In addition to his art practices, he enjoys the outdoors through camping and canoeing.
Charlotte Patterson
Sculpture
Charlotte is a native Kansan who credits her junior high art teacher, Jack Boge, for encouraging her artistic talents. Charlotte considers herself a multifaceted artist and enjoys working with youth and adult students alike.
Andy Patton
Sculpture
Andy Patton is a classical sculptor who has studied under several masters such as Bruno Lucchesi, Babs Mellor, and Vincent Aniano. He has also attended the Wichita State University School of Fine Arts. Andy is currently president of the Wichita Sculptors Guild.
Don Praseuth
Drawing 
Don Praseuth is a passionate Kansan artist who has primarily studied traditional and digital art with an emphasis on portrait and figurative studies. He studied fine arts and illustration at Watts Atelier in Encinitas, California, under various acclaimed artists.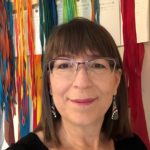 Jennifer Walterscheid
Enameling
Jennifer Walterscheid has a B.A. from Wichita State University with a studio art emphasis and a certificate of ornamental painting and design. She enjoys cultivating creative energy in the enameling classroom, where she works along side her students while they paint with fire. Her work can be found locally at Karg Art Glass and Gallery XII. She teaches elementary and middle school art when she isn't at Mark Arts.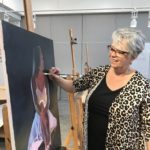 Melinda Weis
Oil Painting
Melinda Weis is an award winning artist represented by Gallery XII. In her former life she was a graphic artist, but can now devote all her time to the joy/agony of painting. She loves sharing her knowledge with others, especially making technology "make sense."
Addie Wise
Drawing
Addie Wise has a bachelor's in education  from Kansas State University and taught visual art in Wichita Public Schools for five years. She recently earned her MFA from Wichita State University and is working to expand her national exhibition record.
Elizabeth Yeremin
Youth
Elizabeth was born and raised in Wichita. She is currently working toward her bachelor's degree in art and art education at Friends University. She loves being able to use her hands while painting and working with ceramics. She adores working with young artists because they are so open to new ideas. Elizabeth's favorite artist is Cayce Zavaglia because of her realistic embroidery portraits.
Dale Small
Photography
Dale Small is an interdisciplinary artist, designer, and photographer based in Wichita, Kansas with a BA in Art History from Wichita State University. Their work ranges from portraits, studio, events, photojournalism, documentary, and film. Dale's work has been exhibited and published throughout Wichita and the Midwest by the Wichita Arts Council, the Wichita Carnegie Library, Wichita State University, the University of Nebraska-Lincoln, and more.  Dale works at Mark Arts as the Exhibitions Assistant, Envision Arts as an Arts Assistant, and with Camera for the Commons, a community arts project based in Wichita, KS. Currently, they are an MFA candidate in the Image Text program at Ithaca College in Ithaca, NY.
CULINARY ARTS INSTRUCTORS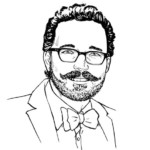 Jamie Stratton
Wine Tastings
Jamie has been in the wine business for more than 20 years. He is currently the wine director at Jacob Liquor Exchange.  In 2005, he became Wichita's first Certified Specialist of Wine through the Society of Wine Educators and passed the Certified Wine Educator exam in 2006. He has also passed the first of three tests in the Court of Master Sommelier Program and was accepted to and studied with the Master of Wine program in London, England.
Kara Smith
Culinary Arts
Kara was born and raised in Wichita, Kansas. From an early age she knew baking and sugar cookies would be her future. Her favorite memories are of decorating sugar cookies for holidays with her mother. Kara "graduated" from the "schools" of her mother and grandmother's kitchens. Self taught, Kara has decorated over 70,000 sugar cookies over 15 years and recently opened the Gilded Cookie, a cookie studio in the Douglas Design District of Wichita. She draws inspiration for her designs and class themes from her daily life. She is quoted as saying, "I see the world as a decorated sugar cookie."
Siobhán Scarry
Creative Writing
Siobhán Scarry holds an MFA in Creative Writing from the University of Montana and a PhD in English from SUNY Buffalo. As an associate professor at Bethel College in Kansas, Siobhán teaches literature and creative writing, runs a visiting writers series and serves as faculty mentor to the undergraduate literary magazine YAWP!