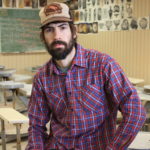 Troy Becker
Ceramics
Troy Becker is head of the ceramics department at Mark Arts. He received his BFA from Wichita State University in studio Art with an emphasis in ceramics. His ceramic styles vary from artistic hand-built forms to highly crafted thrown pottery. He has shown his work in numerous solo and group exhibitions in Wichita. Becker was also the 2009-2010 Artist in Residence at Mark Arts.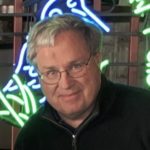 Doug Billings
Printmaking & Acrylic Painting
Doug Billings graduated with the BFA in printmaking from Mankato State University in Minnesota and received an MFA in printmaking from Wichita State University, where he studied under respected printmakers, professors David Bernard and John Boyd. He established a new printmaking program at Mark Arts in 2002, and founded and directs the Tallgrass Press Printmakers Association, established in 2013.
He is currently a member of the American Color Print Society and a member/regional representative of the Society of American Graphic Arts. He is also a member and former president of Gallery XII in Wichita and a former president and board member of the Wichita Artists Guild.
He has exhibited works in seven international and over 20 national juried exhibitions and has been published in the Journal of the Print World, Icon Magazine, the Wichita Times, The Wichita Eagle, the El Dorado Times, the Shocker alumni magazine, Kansas.com, College Hill Commoner and the F5 weekly publication.
Bernadette Bradshaw
Painting Instructor
Ms. Bradshaw received her art training from the College of Visual Arts in St. Paul, MN with emphasis on fine art and illustration. She works in several mediums including fiber, watercolor, and soft pastel. She's continued her studies attending workshops with nationally known artists, Doug Dawson and Marla Baggetta. Her work has been featured in exhibits in Orleans, France, the Ohio Craft Museum, the Birger Sandzen Gallery in Lindsborg, KS as well as multiple galleries, exhibitions and shows locally and regionally. Since 1997, Bernadette has taught watercolor and soft pastel for CityArts, Mark Arts and privately.
Gayle Clayborn
Watercolor, Pastel, Adult & Youth Workshops
Gayle Clayborn is an energetic, passionate artist who has been teaching private and group lessons for more than 12 years. A handful of her youth students have received national awards.
Elizabeth Corbett
Pastel Instructor
Long before her formal education, Elizabeth Corbett was an artist in the making. Growing up poor in rural Missouri there were no art classes and no museums. At a very early age she was enthralled by the play of early morning light and shadows, dew on the grass, and even the refraction of light on ice cubes. Her excitement for the visual world has not waned! Many years later she entered college with plans to major in English. However, she switched to painting, earning a BFA in painting and drawing from the University of Kansas, and continued her studies at Wichita State University receiving an MFA. Her plans to teach were derailed by the opportunity to be a flight attendant. It was after her retirement that Elizabeth had the opportunity to take workshops and spend the time necessary to mature as an artist. Her proficiency in oils and pastels has enabled her to participate and win awards in many shows.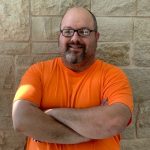 Nick Denny
Drawing & Youth
Nick Denny was born in Albuquerque, New Mexico, to Air Force parents and spent his childhood living overseas. Exposure to many different countries and cultures fostered an appreciation for the arts. After moving back to the U.S. in 1995, he attended Wayne Community College in 1996 where he was inspired by his first college-level art instructor, brick sculptor Pat Turlington. Upon his father's retirement from the Air Force, the family relocated to Wichita and Nick enrolled at Wichita State University where he went on to earn a BFA in fine arts, painting and drawing in 2002.
Nick worked as a designer and fabricator of advertising and signage for 20-plus years while also teaching at Paint the Towne starting in 2013. He continues to produce art and illustration work in his home studio while teaching part time.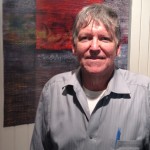 Jim Gross
Abstract Painting
Jim Gross earned his teaching degree at Friends University and his MFA degree from Wichita State University. He is a member of American Abstract Artists. His works are in the Guggenheim, the Metropolitan Museum of Art and the Nelson–Atkins Museum of Art. He received the Distinguished Alumnus Award in Fine Arts from Friends University and was named Artist of the Year by the Wichita Arts Council.  Gross has had three one-man shows in New York City.
Matthew Hilyard
Mixed Media & Abstract Painting
Born in Wichita, Matthew Hilyard maintains his home and studio in Andover, Kansas. He is a curator, studio artist and art instructor at Mark Arts. He was commissioned to paint a Keeper of the Plains Statue that can be viewed at the Urban Park in downtown Wichita. His work has been included in numerous local, regional, national and international juried competitions. His work has been included in New American Paintings.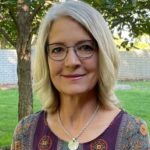 Judy Lawson
Jewelry
Judy Lawson is a native Kansan. She earned a Bachelor's in Education from Emporia State University, and was a teacher for 26 years. Retirement has allowed her to focus on her love of art, specifically metalwork. Judy draws her inspiration from nature's palette, and her style is earthy. She constructs her pieces by combining patterns and textures found in nature, colorful stones, and rich beautiful metals. Judy obtained her Precious Metal Clay Certification from Rio Grande, and she
has taught classes at City Arts. Her work has been represented at Steckline Gallery, Wichita City Arts and Bella Luz. Judy's pieces can be found locally at Aspen Boutique.
Rachel McCabe
Youth & Workshops
Rachel was born and raised in Leavenworth, Kansas, and has degrees in graphic design, multimedia-video production and art education. She loves working with illustration markers and watercolors because of the unique, almost magical result. She enjoys watching young artists work on big projects one step at a time until a masterpiece is the final result. Rachel's favorite artist is Camilla d'Errico because she has the craziest ideas and the coolest works she has ever seen.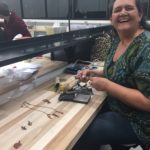 Lori Martin-Price
Jewelry & Metalsmithing
Lori Martin–Price earned her BA in metalsmithing from The University of Kansas. She is a professional artist who also teaches K–12 art at Elyria Christian School and noncredit silversmithing at Hutchinson Community College. She is also a member of the Hutchinson Art Association with work in its gallery.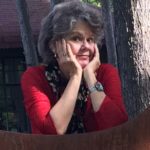 Mary Binford Miller
Oil & Acrylic Painting
Mary Binford Miller received her Bachelor of Fine Arts in painting and a Bachelor of Science in art education from Kansas State University. She worked as a fashion illustrator for The Oklahoma Publishing Co. and The Wichita Eagle newspapers. Mary has studied with Everett Raymond Kinstler, official portrait painter of Gerald Ford and Ronald Reagan, as well as David Leffel, Daniel Gerhartz, Jeff Legg and Daniel Keys, all world-renowned classically trained painters. She is a multiple Addy Award winner in the graphic arts field. She has also won awards for her fine art paintings, the most recent being an Honorable Mention in the 2018 Mark Arts Oil Painting National Exhibition, juried by internationally known painter Daniel Keys. Mary is co-winner of the Koch Cultural Trust Enabling Grant for 2018. She is represented by SouthWind Gallery in Topeka and Reuben Saunders Gallery in Wichita.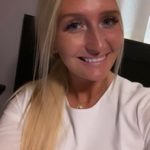 Adyson Mikesell
STEAM & Youth Workshops
Adyson Mikesell was born and raised in Wichita. She is on track to graduate with a BFA in Graphic Design in Spring 2022, from Wichita State University. Her favorite mediums include paint, oil pastels and colored pencil. She enjoys calligraphy and would love to sell her own greeting cards someday. Her favorite artist is Jessica Hische because she shows typography is more than just words on a canvas. Adyson loves working with children and watching their imagination come alive on paper.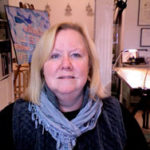 Caryl Morgan
Watercolor
Caryl Morgan is an internationally recognized contemporary realist watercolorist whose primary interest is in vivid, highly saturated watercolor. Through teaching, she passes on her enthusiasm and belief that anyone can successfully create art to express his or her own creativity. Morgan has a diverse educational background gained by attending colleges and universities in Oklahoma, Texas, Kansas, Missouri, Colorado, Illinois. These educational opportunities aided her growth as an artist. She taught art at Ark City High School and adjunct art history at Cowley College.
Morgan took early retirement from teaching after 31 years to pursue personal art goals. She continues to develop her professional art career and still enjoys teaching when opportunities arrive. She is also a signature member of the Watercolor USA Honor Society, Kansas Watercolor Society and Oklahoma Watercolor Society, as well as many other state and local associations. Her work is represented in private, corporate and permanent museum collections across the United States.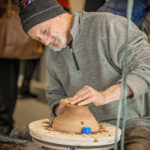 Jack Norris
Ceramics
Jack Norris has a master's degree in microbiology from Wichita State University and worked for many years in engineering at Boeing. In addition to his art practices, he enjoys the outdoors through camping and canoeing.
Pat Pelkowski
Mixologist
Mr. Pelkowski owns and operates Shaken or Stirred Bartending. A liquor catering service which does mobile bartending and mixology classes. Pat worked in munitions maintenance upon joining the U.S.A.F. in 1983 and then cross trained to Air Traffic Control. He spent time on Anderson AFB Guam, Wright Patterson AFB Ohio and Wurtsmith AFB MI. He was honorably discharged in 1989 and was hired by the FAA as an air traffic controller.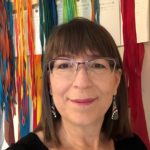 Jennifer Walterscheid
Enameling
Jennifer Walterscheid is an artist living and working in Wichita, Kansas. She is a graduate of Wichita State University with a Bachelor of Arts in Studio Art and a Certificate of Ornamental Painting and Design. Jennifer has experience teaching Pre-K through 8th grade art in the Wichita area and enameling at Mark Arts. She enjoys cultivating creative energy in the enameling classroom, where she works alongside her students as they paint with fire. Enameling has become her passion since she discovered it nearly fifteen years ago at the Wichita Center for the Arts. Her work was included in The Wichita National All Media Craft Exhibition 2013 and 2017, at The Wichita Center for the Arts. She has received four enameling awards in the Wichita Center for the Arts Student/Faculty show. Galleries her work has been shown in include the Steckline Gallery at Newman University, the gallery at Exploration Place, Visual Arts Alliance in McPherson, the William J. Reals Gallery of Art and the Mercer Gallery at Garden City Community College. Her work can be found locally at Karg Art Glass and Gallery XII as well as the Mark Arts sales gallery. Jennifer has been a Kansas artist working to create art with the historic copper reclaimed from the Kansas State Capital Building in Topeka.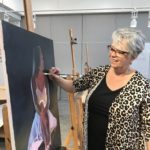 Melinda Weis
Oil Painting
Melinda Weis is an award-winning artist represented by Gallery XII. In her former life, she was a graphic artist, but can now devote all her time to the joy/agony of painting. She loves sharing her knowledge with others, especially making technology "make sense."
Addie Wise
Drawing
Adelia Wise had mentors in both art and education starting at an early age, though she may not have realized that would be her path until she had already started college. Adelia, known by most as Addie, was born in 1988 in Michigan then grew up primarily in Wichita, Kansas. She attended Kansas State University and graduated with a bachelor's in education in 2010. Addie used her degree to teach K-12 visual arts for the public school district back in Wichita for the next five years. Then in 2019, she completed the graduate program at Wichita State University and received her master's degree in studio art. Addie's work primarily focuses on the human figure, using two-dimensional media and drawing processes to describe the complex relationships between nature and culture. Many of her recent pieces have been exploring personal experiences and the challenges of becoming a mother. She maintains an active exhibition record by showing work in local and regional galleries and juried shows. Currently, you can find Addie shuffling between Butler Community College and Wichita State University as an adjunct instructor or teaching youth and drawing classes at Mark Arts. Her passion for teaching is matched only by the drive to create, Addie hopes to maintain the delicate balance between both as she navigates her career path.
Elizabeth Yeremin
Youth
Elizabeth Yeremin was born and raised in Wichita. She is currently working toward her bachelor's degree in art and art education at Friends University. She loves being able to use her hands while painting and working with ceramics. She adores working with young artists because they are so open to new ideas. Elizabeth's favorite artist is Cayce Zavaglia because of her realistic embroidery portraits.